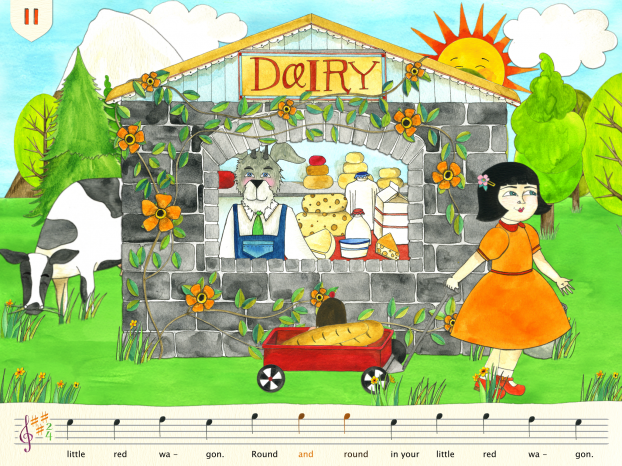 Listen up, Mommies! I've got 5 words to LIBERATE you from lame, cheesy, toot-inducing children's singalongs:
CAT DOORMAN'S LITTLE RED WAGON
Great music, instruments, lyrics, interactivities and artwork combine to make this an awesome and engaging musical app experience for you and your little ones. It might even have you feeling like a cooler, more relaxed, and HAPPIER MOMMY afterwards!
How it Made Us Happy
I tried this app out with my bossy three-year-old. I'm not going to lie to you. We were both having a time-of-the-month crisis. (Hers seems to be every day, several times a day.) But as soon as we heard the soulful voice of Cat Doorman and began interacting with the adorable little girl in the story — with her darling red Mary Jane shoes and little red wagon — we both forgot all about the moody blues and started having fun!
Who is Cat Doorman?
Cat Doorman is the moniker for Julianna Bright, a popular indie rocker-turned-children's singer/songwriter and visual artist based in Portland. Her voice has been compared to Ingrid Michaelson, Tori Amos and Natalie Merchant. Between Doorman's upbeat vocal tempo, vivid, hand-painted illustrations (by the mega talented Bright herself), and charming, old-fashioned dress of the little girl, the app is almost a throw-back to the past and yet a timeless tribute to childhood.
How the App Works
We are introduced to the little girl. She sports a short dark bob, classic, orange, school-girl dress, and red Mary Jane shoes, and pulls along a red wagon. We are told: "Drag an instrument into the wagon to tell the band what to play." Your child can choose between a guitar, piano or full band to add to the wagon. The chosen instrumentation accompanies the vocals.
The song Little Red Wagon plays while musical notes and lyrics appear at the bottom of the screen (which help in learning the tune), and the little girl takes her wagon around to a bakery, dairy, garden, and orchard. My daughter even taps her fingers with the music notes as if she's playing them herself.
Along the journey, your child can interact with the scene and collect items at each place: sweets and baguettes from the bakery, milk and cheese from the dairy, vegetables from the garden, and apples from the orchard. Just watch out that the little critters lurking don't snatch them from you!
At the end, the little girl has a picnic with her animal friends and they get to enjoy all their goodies. They seriously get into it too – I mean, these guys make a HUGE mess! But hey, isn't that what your kids do?
Why I Really LOVE This App
Quality children's music that is engaging for both kids AND parents is hard to come by. Lately, I had been searching for some nice children's music that wasn't as cheesy as Old McDonald, but also not as poppy as the Glee soundtrack (the unmistakable culprit for my daughter's half-nude table-top dancing).
If you decide to give Little Red Wagon a whirl, you will experience a truly unique experience with your kids. Little Red Wagon is both reminiscent of the beauty of youth and a sweet adventure that you and your child can share in together. Oh, and p.s. keep an eye out for the farting cows.
The App-Makers
The app was made by Night & Day Studios, known for apps such as Peekaboo Barn, Eric Carle's My Very First App and Go Away, Big Green Monster!
View / Purchase Cat Doorman's Little Red Wagon here!
Cat Doorman's Album
Little Red Wagon, the feature song for this app, is also part of Cat Doorman's brand-new 14-song album for children, Songbook. It was produced in Portland, Oregon and features members of the Decemberists and the Corin Tucker Band. This is a FABULOUS album for the whole family to enjoy. The music is an amalgamation of indie rock styles (folk, jazz, blues, lullaby) and varied instrumentation. Many songs are great for in-house dance / jam sessions, while others are perfect to enjoy doing arts and crafts activities together. There might even be one or two tunes that make a mommy want to slink away after kiddies have gone to bed to listen to over a glass of wine. Just sayin'. Check it out here!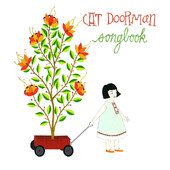 Happy Tech Parenting!
Shoshana Stopek (aka Mommy Tech Bytes)
Connect with me on Google+ and Twitter