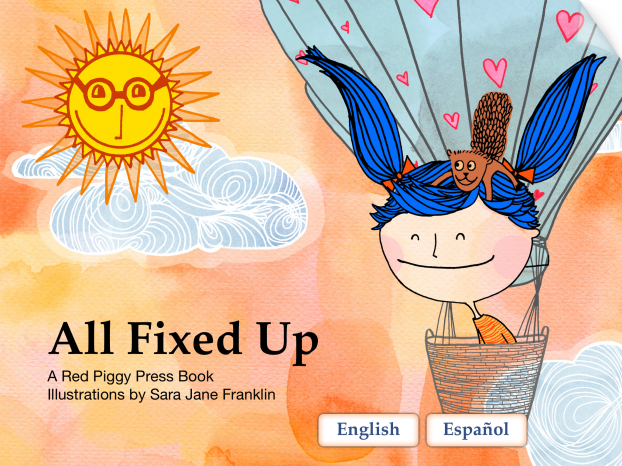 My daughter loves her daddy. To quote her directly, "He's BEST MAN EVER!" My daughter is three. Her daddy is the center of her world. And that's what All Fixed Up is about.
All Fixed Up is a celebration of daddies!
And All Fixed Up is also a celebration of mommies!
Because you can customize it however you want. This app is entirely unique in that the parent can be mom or dad and the child can be girl or boy. It was created independently by Red Piggy Press to honor parents who work away from home or travel frequently to support their families (such as parents in the military, among others). The story begins with a child's parent leaving to go overseas and ends with the parent's return at the airport.
The parent-child themes within the story are universal for all families.
The Child Storyteller
The story is told through engaging first-person child narration. You can customize the app to read to you, read silently or read and record. With this app, the storytelling is greatly enhanced by the voice of the child narrator telling it. It works integrally with each bright, hand-painted scene (by Sara Jane Franklin) to draw us deeper into the story and to help us relate to the feelings being explored.
The Story
The child (who in my case is a girl) describes her daddy as awakening "before the sun wakes up." Through the interactivity, we can touch the father's face and hear him yawning.
"Oh, my daddy does that," my daughter says. (Of course she identifies with his loud, daddy yawn.)
The child says, "Dad's going overseas. We won't see him for a long time." Right away, we understand that this father has to travel for work. The child holds a map of the world. With your own child, you can pin objects on the map to different parts of the world.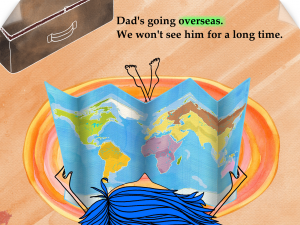 This story has heart!
The child shows through a series of interactive scenes how her dad can fix anything – a scraped knee, hurt feelings, a broken car, even a leaky submarine. We might even say dads (and moms) are like super heroes. In my daughter's story:
Dads are bicycle fixer-uppers, boo-boo kissers, feeling healers, and all mighty broken toy repairmen. (So are Moms, I might add, but we know we're awesome.)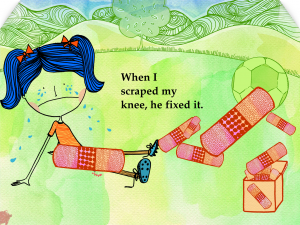 Our Favorite Parts of the App
Not surprisingly, my daughter's favorite parts of this app are the interactivities where she can "kiss the boo boo" with band-aids, make a hot air balloon soar with magic hearts, and start the engine on a car (the car changes to different colors)! She'd love to re-size the band-aids and hearts, but I think that would be a great addition to the next update.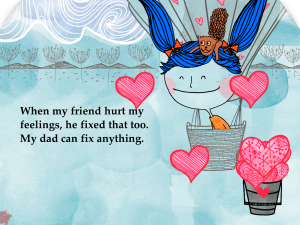 Will I Like This App?
Hellooo! Do you like being a parent?
If you are a parent who travels for work, this story is great for you.
If you are a parent who works long hours, this story is great for you.
And, guess what?
If you are a parent who commutes five minutes to work,
Or a stay-at-home, full-time parent, this story is great for you too.
Wait, if you're a parent, period. I think you'll like this app.
Why?
Because it has lots and lots of heart for the love between children and their parents. And through the exercises, we can explore with our own child the values and feelings that she may feel about her mom, dad or both.
This app is an original, endearing and poignant story with humorous undertones (a giddy squirrel appears in several scenes). Its story, design, beautiful artwork, and narration work seamlessly together to enunciate some important themes for parents and children. Here's a takeaway from this parent:
The bond between parents and children cannot be measured by time or by distance, but through all the ways they show each other love.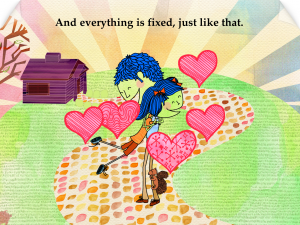 Share the Story You Made!
Your customizations are SAVED as a VIDEO at the end, so you can share the story you created with loved ones via Facebook, YouTube and email. How cool is that? (The video is especially nice for an older child who might want to read and record the story herself.)
The App Makers – Red Piggy Press
All Fixed Up is the brain child of Red Piggy Press CEO Shelly Bowen. who raised funds locally through Kickstarter to create this app. Read more about about The Making of All Fixed Up and What Other Parents are Saying. Watch a video about it here!
Additional Hints: There are lots of hidden interactivities on each page. This cheat-sheet will ensure you unlock all the fun!
Download All Fixed Up on the App Store!
Happy Tech Parenting!
Shoshana Stopek (aka Mommy Tech Bytes)
Connect with me on Google+ and Twitter