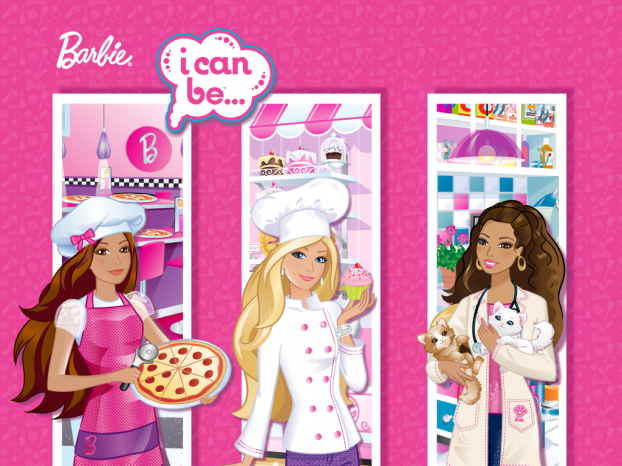 Barbie. The girl gets around. Whether she's starring as herself in Toy Story 2 and Toy Story 3 or the inspiration for Barbie: The Princess & The Pop Star, she's the darling diva of fashion, glamour, beauty and fantasy play.
Barbie and I have had our differences. So when my three-year-old asked me to buy her a Barbie doll, I had a vision à la The Shining – she's baaaack.
But I'm here to tell you about something that made me very happy and I think it will make you happy too. It's called Barbie I Can Be and if you haven't discovered it yet, it's Mattel's line of merchandise, online games, and a free app that encourages imaginative play in little girls in a positive way.
Barbie I Can Be features Barbie  in various career settings where she is professional, artsy, nurturing or sporty. The online site is geared towards tweens and includes games and videos about different careers from the perspective of real girls talking.
In Barbie's I Can Be line of careers, she often helps others. She can be a doctor, nurse, teacher, babysitter, dog walker, and so on. And for the first time since I've known her, I actually feel like Barbie is setting a good example for our daughters.
Then there is the Barbie I Can Be app (not to be confused with other Barbie apps.) This app is not only great fun for preschoolers, but it's FREE! The app allows your child to choose between being a pizza maker, pastry chef, or veterinarian.
Each of the three Barbie I Can Be app career activities is equally fun and educational!
Whether you're rolling pizza dough and adding toppings —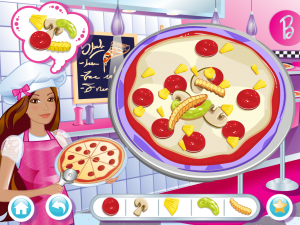 Filling cupcake cups with mix and adding icing and sprinkles —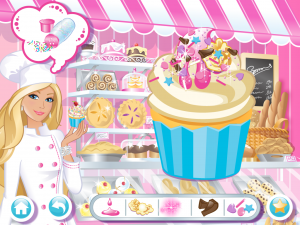 Or caring for an injured pup at the vet.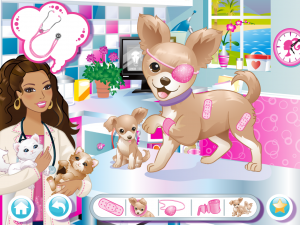 My daughter loves the Barbie I Can Be app from Mattel and I'd love to see more apps developed like this one.
Barbie and I don't need to be besties. But if she instills the message within my daughter: be anything you want to be, then she's alright by me.
What do you think about Barbie I Can Be?
Happy Tech Parenting!
Shoshana Stopek (aka Mommy Tech Bytes)
Connect with me on Google+ and Twitter