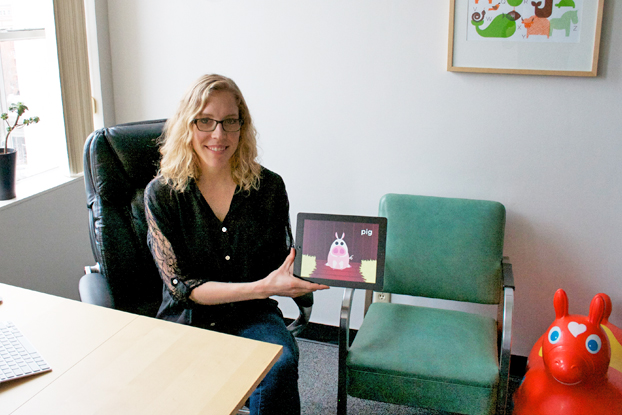 Interview with Kate Kiehl, Night & Day Studios
Did you ever wonder about the people behind your favorite kids' apps? Ever wish you could step inside their workshop and find out the secrets to how they built their apps from start to finish? I recently had the pleasure of interviewing Kate Kiehl, Marketing Director at Night & Day Studios (Portland, OR). In the interview, Kiehl provides a truly unique, first-hand look at the challenges, rewards, and excitement of working at a kids' app company.
INTRO & BACKGROUND
MTB: Kate, thank you so much for chatting with me today. How long have you been working at Night & Day Studios and what is your role there?
KK: Thanks, Mommy Tech Bytes, for taking the time to talk! I've been with Night & Day Studios for about a year and a half. I am the Marketing Director, which translates to wearing a handful of hats. I am responsible for promotions, new app launches, social media, press outreach, marketing strategy, helping respond to customer inquiries/ support emails and I also do a lot of fun collaboration with our clients and partners.
 MTB: What kind of apps does Night & Day create?
KK: Night & Day makes apps for kids, the majority of which are geared towards kids 6 and under. We aim to build apps that are both entertaining and educational. We create our own proprietary apps like our Peekaboo series and we also partner with other companies such as Sesame Street and Warner Bros. to make apps for existing kids' brands. Some individuals also hire us to build kid-focused apps for them. We recently partnered with Julianne Moore to create a Freckleface Strawberry app based on her Freckleface Strawberry book series.
MTB: Can you walk readers through a typical day for you?
I start the day by catching up on emails and checking our app sales from the day prior. It often includes meetings with the other members of our team to brainstorm new ideas, discuss app development progress or plan for an upcoming launch. I regularly touch base with different clients and partners via phone as most of the folks we work are based in NYC, SF and LA and our main office is in Portland. I also spend time each day managing our various social media channels, responding to customer inquiries, and assisting with support emails. My busiest times are when we launch a new app. That process involves a great deal of planning, coordination with many different parties and I devote a significant amount of time to one-on-one press outreach.
THE APP PROCESS
MTB: From your experience, what kinds of resources go into building an app? Is it creative, technical, marketing, or all of the above and more?
KK: All of the above and more. Our different departments work very closely to bring the apps to life and everyone is an integral part. Once the general idea has been established the creative and technical teams pour in a huge amount of time and resources to create the app in different stages. Testing and feedback is conducted at each stage and the app becomes more refined until it reaches the point at which it is ready to be submitted for review. A launch strategy is established and implemented – and then the app is finally available for customers to purchase it.
MTB: What parts of the app processes are you in charge of?
KK: My role is biggest at the beginning and the end of the production process. I weigh in at the very start of this process by providing a market analysis and strategic insight. I continue to advise as the app is in development, but the bulk of my role is once the app has been built and is ready for submission. I handle the submission process to make the apps available for sale on Apple, Amazon, and Google Play. During this time I am also coordinating all the necessary launch materials, writing press releases, and planning social media campaigns for the launch. It's always so exciting to see the apps go live after being involved from the very early seed of an idea.
MTB: What is the most exciting part for you about starting a new project?
New projects are particularly fun because there is so much creativity swirling around. It's the time where you get to throw a bunch of  ideas at the wall and see what sticks. It's also the time when our team gets to collaborate the most. I always love seeing how our different skills and expertise meld together to dream up whatever is next."
MTB: What are some of your favorite apps that you've worked on at Night & Day Studios?
KK: I've been blessed with really great projects in the time that I've been here, but my two favorites to work on were Peekaboo Sesame Street and Yummiloo Rainbow Power. Working on Peekaboo Sesame Street was a true honor, and it was exciting to be a part of combining our proprietary Peekaboo brand with the hugely respected longstanding Sesame Street establishment. The team at Sesame Workshop is absolutely fantastic. I also adore the idea behind Yummiloo Rainbow Power – it focuses on encouraging healthy eating and features really cute characters known as the Yum Yums. Our partners at Yummico were a true joy to work with and they are a powerhouse of talent including Traci Paige Johnson, the co-creator of Blues Clues.
MTB: Can you tell readers about a passion project that was particularly rewarding to work on?
My favorite Night & Day passion project I've worked on was Cat Doorman's Little Red Wagon. We created this iPad songbook app with local Portland artist/musician Julianna Bright (aka Cat Doorman) She is a phenominal artist who hand-painted all of the illustrations in the app and plays the music as well. The project was several years in the making, but the end result is truly beautiful and unique. It feels like something out of another time that somehow found its way onto an iPad."
MTB: Are there things that make working on kids' apps unique from adult apps?
KK: Absolutely. I think one of the most fundamental differences is that the purchaser and the end user two different individuals. You are selling to a parent, caregiver, teacher, grandparent etc., but the end user of the app is a child. This makes for a unique challenge in that you need to capture two different audiences and engage them both. From a legal standpoint and in order to be COPPA compliant there are certain logistics of making apps for kids that don't apply when making apps for grown-ups. Additionally, what engages little ones can sometimes be surprising.  It's  important to know the age range you are targeting with your content and also conduct user testing to make sure it is the correct fit.
DIGITAL TRENDS
MTB: How do you keep up with the ever-evolving digital trends in the marketplace?
KK: It is unbelievable how quickly things change in the digital world! Keeping up definitely involves reading a lots of blogs and tech press, as well as keeping eyes on social media nearly constantly. Some of my favorites are Tech Crunch, Cool Mom Tech, All Things D, The Guardian UK Tech section and Mashable. I also belong to a few app developer forums / communities where people are regularly sharing and trading news. I also spend a great deal of time investigating the app store.
MTB: Is it challenging to figure out the best marketing tactics with so many apps in the marketplace? What have you found to be the most effective marketing tools and outreach tactics?
KK: Yes the challenge of making an app stand out is one that is increasingly difficult. In 2008 when we released Peekaboo Barn it was one of the first apps ever designed specifically for children and making apps for kids was considered controversial at the time. Fast forward to 2014 and there is an entire category in the App Store devoted to kids apps that is overflowing with content. To stand out amongst such a vast sea of ever growing options is a huge challenge and we have a handful of valuable tools we employ. Our most direct line of communication to our customers is cross-promoting our apps through our "More Apps" system. Social media buzz, blogger and press features, giveaways, and sales/promotions are also useful. Finally, a feature from Apple is essentially gold. Having strong feature placement within the App Store has a direct and significant influence on sales.
REWARDS 
MTB: What has been most rewarding about working at a children's app company?
KK: One of the most rewarding things for me has been the opportunity to learn the ins and outs of a different industry. My previous work was doing marketing and advertising for a major retailer, and the transition into the world of kids products as well as mobile apps was an exciting change.  I have learned multitudes about the process of creating an app, marketing digital content, and the unique challenges of building products for children in my time at Night & Day. Another huge reward for me has been the opportunity to work with so many established children's companies, brands, and artists. I feel blessed to have worked with the folks at Sesame Workshop and Warner Bros., the Yummico team, authors Ed Emberley and Marc Brown, and Yo Gabba Gabba co-creator Scott Schultz. There's endless knowledge to be absorbed from industry veterans such as those!
ADVICE TO OTHERS
MTB: What advice would you give to someone interested in working in kids' digital media?
Be passionate, persistent and patient, particularly if you want to get into the kids' app realm. To succeed in such a highly saturated marketplace will take a great deal of excitement and commitment to the project you are undertaking. Persistence and patience are crucial; your first endeavor may not be the money maker you were hoping it would be and it helps to go into it all with realistic expectations. Do your homework, study the marketplace, and figure out how to use your talents to fill the gaps that exist out there. Remain aware of the unique world you are entering into where the parent is the purchaser and the child is the consumer and enjoy it – it's a fun ride!"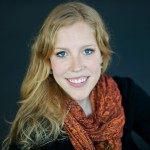 Kate Kiehl is the Marketing Director at Night & Day Studios. She is also an avid surfer, yogi, and perpetual optimist.
She can be contacted on LinkedIn.
Happy Tech Parenting!
Shoshana Stopek (aka Mommy Tech Bytes)
Connect with me on Google+ and Twitter