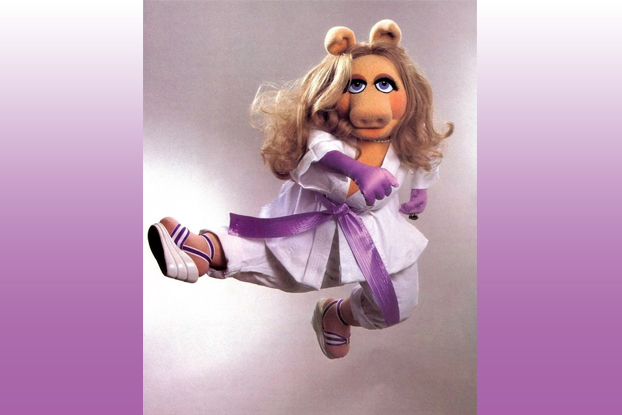 In Honor of Mother's Day
We all have life lessons from childhood that we treasure – pivotal moments that defined our character and helped us grow.
Whether funny, emotional, touching or profound, each life lesson teaches us something about ourselves and our relationship to everything around us.
With my mom, it's always been about humor. She has a special way of cheering me up and helping me through tough times with her sharp wit, quick thinking, and unique ability to make serious situations surprisingly funny.
Stand up for Yourself Like Miss Piggy
The contest was called "Pig Out On Books." That was what my elementary school named the reading contest I won in third grade for reading more books than anyone else. My victory, however, was short-lived. The next thing I knew, a boy in my class decided that an appropriate nick-name was in order: "Piggy." I began hearing it on a daily basis. I heard him during class: "Piggy." Snort. At the water fountain: "Piggy." Snort. During gym: "Piggy." Snort.  I even heard him in my sleep. "Piggy." Snort. Finally, I told my mom. We sat on my bed together with my five-year-old brother to figure out a solution.
"What we need to do," said my mom, "is come up with something you can say back to him so he doesn't do it anymore."
"Like Hot Lips?" suggested my brother.
"I don't think that's it, exactly," said my mom. She was thoughtful, and then she said, "I've got it!"
The next day, I waited for the boy to strike. Sure enough, we were putting away our coats in our classroom lockers. His locker was right next to mine. "Piggy," he snorted.
I closed my locker, turned to him and proudly declared, "Miss Piggy please!"
He never called me Piggy again.
I like to tell this story because it's a great example of how my mom taught me to stand up for myself at a young age. Of course, every situation is different. Kids can be mean. Adults can be petty. But this is what I've learned: believe in your own self-worth and have a voice when you are being bullied, taken advantage of, or not being treated fairly. You may not be able to change the way people act, but you can control the way you react.
One day, I will share this story with my daughter. When I do, I will tell her: Stand up for yourself like Miss Piggy. Because no one messes with Miss Piggy! (Except maybe Kermit. But that's for another chapter.)
Conquer Your Fears: Snakes, Changing Lanes and Automobiles

I want to preface this story by saying that in life we are sometimes faced with situations in which we have to act quickly on our feet, or, in this case, in the car.
In the words of Indiana Jones, "I hate snakes." When I was in seventh grade, my mom decided it would be cool to get a pet snake. She claimed it was for my little brother. We already had two dogs, a rescued ferret, an iguana, a turtle, two fat frogs (one that looked perpetually pregnant), and a bunch of fish. Obviously, we needed a snake to top off our domestic zoo. My mom and my brother picked out a small ribbon snake from the pet store and named him Sammy.
Sammy was twenty-four inches long and thin with green, brown and yellow scales. My mom adored him. It was early February, and my mom took Sammy to visit my sister's Kindergarten class, where they were learning about the letter "S."  After the visit, my mom packed up Sammy in his cage and drove home. The problem was, Sammy didn't make it back to the house. Somewhere between the classroom and my mom's Dodge minivan, Sammy had escaped from his cage. My mom was convinced that Sammy was wandering belly-up down halls of the elementary school. She called the school and asked the janitors to scour the premises looking for him while the secretaries in the office waited nervously on top of their desks. They did not find Sammy.
Eight weeks later, on the first warm day in late March, I sat in the backseat of the minivan while my mom drove towards the mall. We were going shopping for a dress for my seventh grade dance. We were driving around the Somerville Circle (a known congested traffic circle) in Bridgewater, New Jersey when all of a sudden I felt something slimy crawling up my bare leg. I looked down and screamed. A very pale yellow snake was coiled around my calf.
"Mom! S-s-nake! Leg!" I squealed. (I'm not even sure I said a coherent sentence.) But my mom knew.
"It's Sammy!" she said. "Hold onto him!"
My screaming must have scared him because Sammy leapt off of my leg and slithered somewhere towards the trunk of the car. My mom careened the car around the Somerville Circle, flew past the exit for the mall, and swerved into the left lane.
"What are you doing?" I cried.
"I'm going to Shoe Town," she said. Shoe Town was the local "DSW" of my youth. It was also located just off of the Circle. She flew into the parking lot and screeched to a halt in front of the store entrance.
"Quick, run in and ask for an empty shoebox," she said. I stared blankly at her. "NOW!" she yelled.
I did as I was told. I am not going to explain the part where I went inside the shoe store and proceeded to yell: "I need a shoebox. There's a snake loose in my mom's car!" They gave me the box.
We managed to coax Sammy out of his hiding spot and place him safely into the shoebox. Turns out he had hibernated in the car during winter. He had survived a couple of snow storms, several car washes and a succession of rowdy kids. Sammy was rewarded for his ordeal with a nice juicy goldfish (a choice meal for a ribbon snake). He recovered well and lived a long snake life.
So what is the takeaway from this story? While it's unlikely that I will literally run into this predicament again, the event has served me well as a reminder that we often need to think and act quickly in various scenarios. My mom acted quickly to rescue Sammy in a stressful situation. I also had to step out of my comfort zone (being afraid of snakes) to help her because I knew how much Sammy meant to her.
My mom teaches sixth grade science at Eisenhower Middle School in Bridgewater, New Jersey. She still loves snakes and has a ball python named Monty.
What are some life lessons you've learned from your moms or other role models in your life? Please share in the comments.
Happy Tech Parenting!
Shoshana Stopek (aka Mommy Tech Bytes)
Connect with me on Google+ and Twitter
Photo Credits
http://muppet.wikia.com/wiki/Miss_Piggy?file=Piggy_karate.jpg
http://www.flickr.com/photos/28122162@N04/31833344