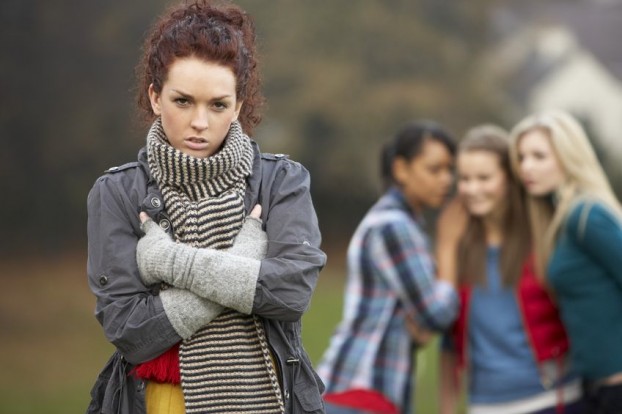 October is National Bullying Prevention Month, and as a parent and former victim of school bullying, I wanted to share my story.
My Story
When I was growing up, we didn't have the internet. But we still had mean girls.  Girls who gossiped about you. Girls who spread lies about you. Girls who made you the prime target of their hate campaign. No one called it "bullying" back then.  "Boys beat each other up and girls are mean." That's what I was told. Like it was some kind of right of passage.
There's a girl in every school who is the victim of vicious, targeted bullying. When I was in seventh grade, that girl was me.
Just before school started, my two best friends called me on three-way on the phone and told me they didn't want to be friends anymore. No reason. I was just out.
On the first day of school, as I walked down the crowded hallway, a formerly well-liked kid in my grade, both girls and guys now avoided me, gave me dirty looks, or averted their eyes. One girl asked our English teacher if her assigned seat could be moved she wouldn't have to sit by me. The teacher obliged.
As the next couple of months progressed, the hate campaign against me grew exponentially. I tried to make friends with other groups in my grade or in the grade above me, but as soon as a friendship would start, it was sabotaged by the mean girls. I would see and hear whispering and snickering all the time – in the hallways, at lunch, in the classroom, and on the bus home. Nasty notes were left in my locker and passed around class about me.
That fall, we went on a school-led trip to an adventure campground. Ironically, the point was to inspire teamwork. My bunk-mate backed out on me and I was stuck in a cabin with three girls who tormented me for the next three days.
Then, one Friday night that winter, I took a chance and went on a a school-organized skiing trip because some eighth grade girls had agreed to be my skiing buddies. But a girl from my grade got to them. The next thing I knew, I found myself abandoned on the slopes, completely alone in the dark and the bitter cold.
And then, the strangest thing of all happened.
The girls started to fixate on a new victim. Her name was Mary. They talked about her all the time, especially when I was around. Mary went to our rival middle school and was "really annoying." She also played basketball – a sport I had taken up that year because I was a glutton for punishment. Starting to get the picture? Finally, I asked a former friend from sixth grade who was also a neighbor if she could come over. With all of my courage, I asked her to please tell me the truth:
Was I Mary? "Yes," she told me. "I'm sorry."
In yearbooks that year, I saw a couple kids had written on each other's pages: "Never forget Mary!"
As if "Mary" was real. As if what they said about her mattered. As if who I was as a person began and ended with their judgment of "Mary."
By the time eighth grade started, most of the meanies had moved on beyond Mary, and by high school, she was long gone. I joined the cheerleading squad, student council, and made new friends. But, we all have scars that never quite fade completely, no matter how much we grow and change. What I learned from being bullied is that there is something even more painful than feeling invisible, and that is feeling powerless. I had gone through an entire school year as "Mary" — someone who was victimized by her peers and not protected by the teachers who saw it happening.
I was too embarrassed to tell my parents the full extent of the bullying. While it wouldn't have changed what was happening, I'm sure it would have been comforting to talk to my parents who loved me very much. I might have felt less alone. Instead, I wrote everything in a diary. I remember crying a lot.
Persistent bullying causes serious issues with self-esteem and can lead to long-term anxiety and depression. It's been documented, and it has led to tragic deaths that could have otherwise been prevented. Bullies like to feel that they are in control, and the fact is, they are only as powerful as we allow them to be. The more we can teach our children empathy, respect and understanding for others, the better chance we have of helping them thrive in the community.
Why I wrote my story ~
I wrote this for my daughter. In writing my story, I am reminded that I can help my daughter be a good person towards others, help her cope with whatever obstacles she may face, and above all, help her continue to feel good about herself. 
I wrote this for anyone who has ever been bullied or not felt good enough.  You are stronger, braver, and smarter than you know. And most importantly, you are more than good enough.
I wrote this for me. Forgiveness and compassion are two of the greatest virtues we can embrace and teach our children. When we hold onto anger, it prevents us from fully realizing our potential. I've forgiven my bullies. I hope that they practice compassion as adults and teach their children to be kind.
Intervention 
The onslaught of cyberbullying increased the focus of lawmakers and schools on the need to protect children against bullies of any kind. Thankfully, today, state anti-bullying laws have been instituted by the government. There are bullying prevention campaigns and awareness programs facilitated by national organizations. There is intervention and prevention programs at the school, state and national level for students, parents and teachers. This kind of dedicated awareness and responsibility has helped open the lines of communication about both bullying and cyberbullying and how we can help protect and empower kids.
Resources
Here are some resources I wanted to share:
PACER The End of Bullying Begins with Me: that's the message during PACER's National Bullying Prevention Month in October. PACER created the campaign in 2006 with a one-week event which has now evolved into a month-long effort that encourages everyone to take an active role in the bullying prevention movement.
STOMP Out Bullying™ is the leading national bullying and cyberbullying prevention organization for kids and teens in the U.S. Its Annual BLUE SHIRT DAY™ WORLD DAY OF BULLYING PREVENTION initiative brings awareness and educates kids, teens, parents and schools about the issue.
Common Sense has a cyberbullying content center that includes age-appropriate guidelines, videos, and articles to help with tough conversations — whether your kid is a bully or is being bullied.
Common Sense also features a list of games that support kindness and compassion across all platforms and ages.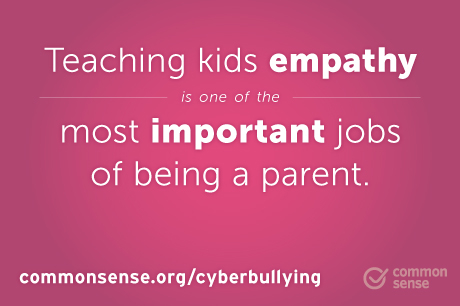 Readers, share your thoughts or experience with bullying in the comments. We're listening!
This post was inspired by the stories I read this month for National Bullying Prevention Month on PACER and STOMP Out Bullying and by Common Sense's new Cyberbullying Content Center. As a Common Sense Media LearnON Ambassador, I am helping to spread the word about Common Sense's mission.  Common Sense Media is a non-partisan, not-for-profit organization dedicated to helping kids and families thrive in a world of media and technology.
Disclosure: I am not compensated for my work as a LearnON Ambassador. All opinions are my own. 
Feature photo credit: Copyright: <a href='http://www.123rf.com/profile_omgimages'>omgimages / 123RF Stock Photo</a>
Thank you for reading!
Shoshana Stopek (aka Mommy Tech Bytes)
Connect with me on Google+ and Twitter
Follow me on The Daily Mom app